LEGO Black Panther War on the Water: First images
Sep 18, 2022
Comments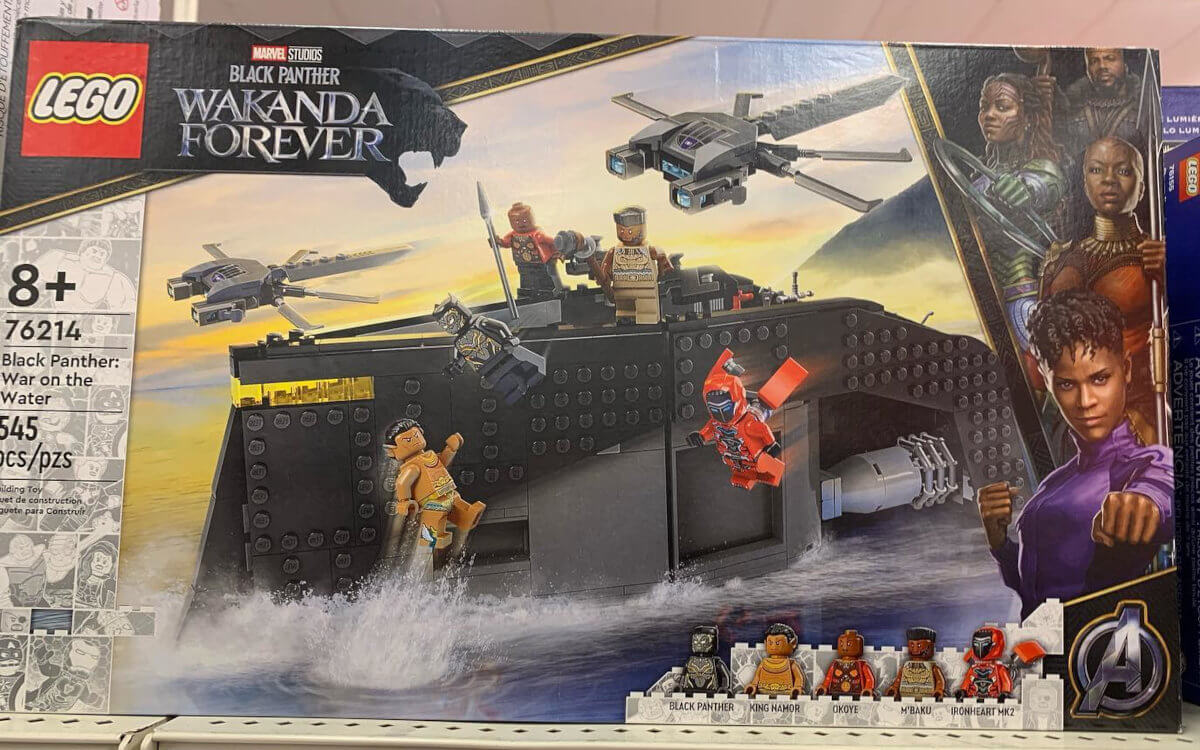 After the first 3 new LEGO Black Panther: Wakanda Forever sets and the big Black Panther bust have already been revealed, we finally have first pictures of the last of the upcoming sets for the new movie. Although we don't have any official pictures by LEGO yet, the set has already been found in a store by Instagram user underscorezeus.
The set 76214 Black Panther: War on the Water is based, as the name suggests, on a water scene from Wakanda Forever and on the ship "The Royal Sea Leopard", which probably appears in it.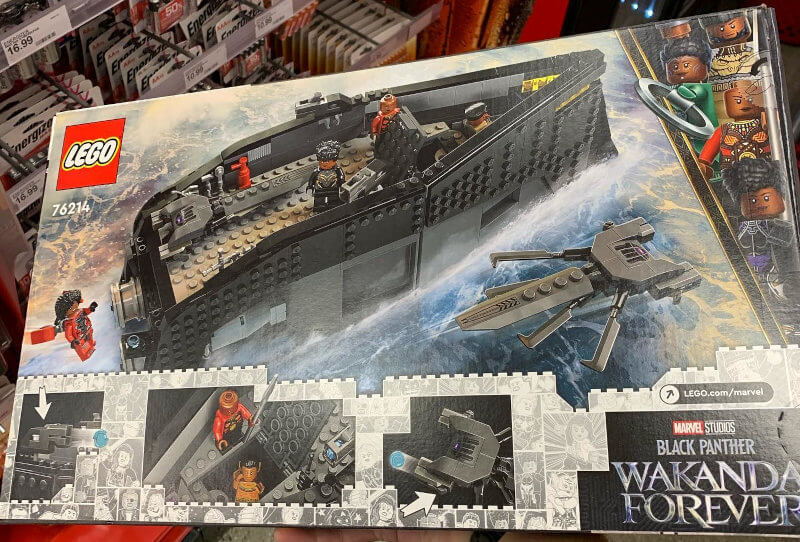 The ship contains the bridge and a few storage compartments for weapons and ammunition. Underneath a hatch in the floor is a dungeon, which is as shown in the picture intended for King Namor. On the deck of the ship there is also a landing place for the two small Black Panther Dragonflyers included.
In addition to the ship and the dragonflyers, the set includes the 5 Minifigures Black Panther, King Namor, Okoye, M'Baku and Ironheart in her Mk2 armor.
For $79.99 you get 545 pieces here, which seems like a pretty poor price per piece. However, there are some large pieces built into the ship, so its size might justify the price here.
76214 Black Panther: War on the Water will be released alongside the other upcoming LEGO Black Panther sets on October 1st of this year.
Name: Black Panther: War on the Water
Set Number: 76214
Pieces: 545
Minifigures: 5
Release: October 1st 2022
Price: $79.99
Official set description:
"Put your little superhero at the helm of the iconic Royal Sea Leopard from Marvel Studios' Black Panther: Wakanda Forever. LEGO® Marvel Black Panther. Water Wars (76214) features tons of fun details and familiar characters for Black Panther fans ages 8 and up. The Royal Sea Leopard is the spectacular ship from the movie Black Panther. Wakanda Forever from Marvel Studios. This cool toy set includes 2 launchers and loads of extras, including a dungeon, weapon and ammo storage compartments, tools and 2 buildable drones. Both drones, which can be parked on the ship's deck, each have 2 launchers and retractable rotors. 5 iconic Minifigures M'Baku, Okoye, Black Panther, Ironheart MK2 and King Namor."