LEGO Ahsoka 2023 sets: T-6 Shuttle & Starfighters revealed
Jul 19, 2023
Comments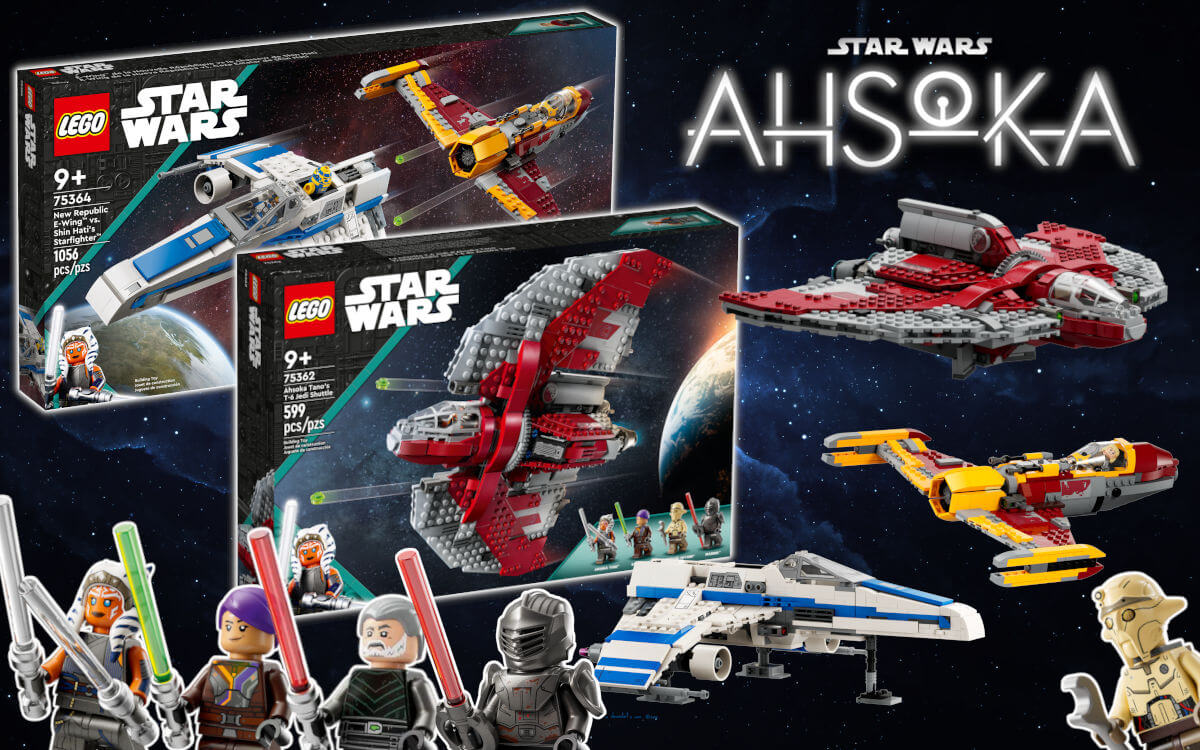 After we've already showed you the new Ghost a few days ago, the two final new LEGO Ahsoka sets for 2023 have now been revealed!
These are Ahsoka's T-6 Shuttle and the set New Republic E-Wing vs. Shin Hati's Starfighter, which consists of 2 new Star Fighters from the series. Both of the new sets will be released together with the Ghost on September 1st.
Ahsoka Tano's T-6 Jedi Shuttle (75362)
The first of the two sets is the T-6 Jedi shuttle of Ahsoka herself, which could be seen towards the end of Star Wars Rebels and will also appear again in the Ahsoka series. As with the previous LEGO version of the T-6 Shuttle from 2011, of course the cockpit can be rotated.
Among the 599 pieces of the set are the 4 Minifigures Ahsoka, Sabine Wren, Huyang and Marrok. Of note, the T-6 shuttle is so far the only set that includes the new Ahsoka figure for the series. The set will hit store shelves at a price of $79.99.
Name: Ahsoka Tano's T-6 Jedi Shuttle
Set Number: 75362
Pieces: 599
Minifigures: 4
Release: September 1st
Price: $79.99
New Republic E-Wing vs. Shin Hati's Starfighter (75364)
The last of the sets consists of Shin Hati's Starfighter and Captain Porter's E-Wing, a starfighter of the new republic. In addition to these two characters, the set also includes Captain Porter's astromech as well as Morgan Elsbeth and Baylan Skoll as figures.
A total of 1056 LEGO bricks are included here and the set will cost $109.99.
Name: New Republic E-Wing vs. Shin Hati's Starfighter
Set Number: 75364
Pieces: 1056
Minifigures: 5
Release: September 1st
Price: $109.99