LEGO Star Wars 2023: Mandalorian Fang Fighter, TIE Interceptor & more
Oct 21, 2022
Comments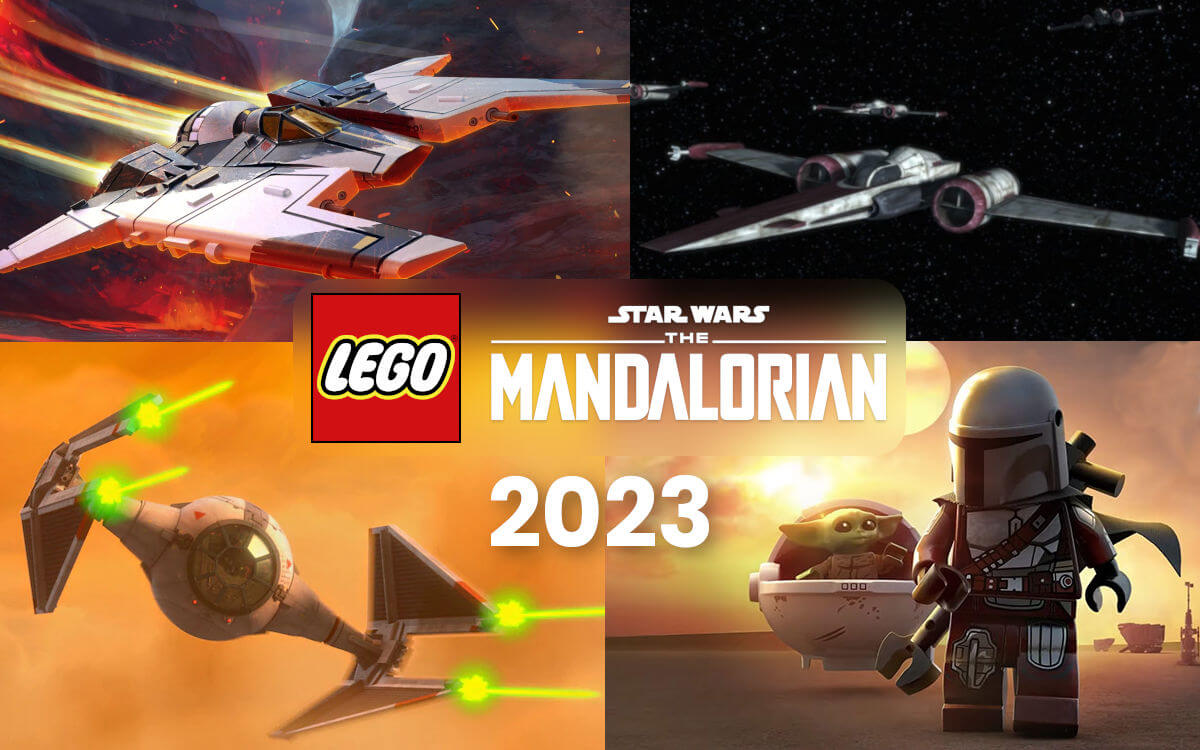 Already about a month ago, first information about the 2023 LEGO Star Wars sets appeared. Up until now, however, several of the upcoming sets were still unknown. Now, thanks to German site Promobricks, we have more information about some of the remaining LEGO Star Wars sets. More precisely, about the Star Wars sets that will be based on The Mandalorian Season 3.
Pirate Snubfighter (75346)
The smaller of the two sets will be a so-called snubfighter. The name snubfighter may cause confusion at first. Presumably, however, this will simply be an X-Wing or z95 Headhunter-like spaceship from The Mandalorian. Considering the price of $34.99 at which the Snub Fighter will be released, it is likely to be quite a bit smaller than the last LEGO X-Wing models.
Even if nothing is known about the minifigures yet, based on the name of the set, it can be strongly assumed that at least one pirate will be included here. The set consists of 285 pieces and will be released on May 1st, 2023.
Name: Pirate Snubfighter
Set Number: 75346
Pieces: 285
Minifigures: ?
Release: May 1st
Price: $34.99
Mandalorian Fang Fighter vs. TIE Interceptor (75348)
With the second of the new The Mandalorian sets, there will finally be a new TIE Interceptor as a LEGO model after almost 17 years. Not only that, as the name suggests, the set will contain 2 starfighters.
In addition to the TIE Interceptor, a Mandalorian Fang Fighter will be included. This is a one-man Mandalorian starfighter that can be thought of as a smaller version of the normal Mandalorian starfighter. The set includes a total of 957 pieces and will be released for $99.99, also on May 1st.
Name: Mandalorian Fang Fighter vs. TIE Interceptor
Set Number: 75348
Pieces: 957
Minifigures: ?
Release: May 1st
Price: $99.99
Every upcoming 2023 LEGO Star Wars set:
| Number | Name | Pieces | Price | Release |
| --- | --- | --- | --- | --- |
| 30654 | X-Wing Polybag | 87 | $4.99 | January 1st |
| 40591 | Mini Death Star II | 289 | GWP ($150) | May 1st |
| 40658 | Millenium Falcon Holiday Diorama | 282 | $29.99 | October 1st |
| 75344 | Slave I Microfighter | 85 | $9.99 | January 1st |
| 75345 | 501st Battle Pack | 119 | $19.99 | January 1st |
| 75346 | Pirate Snubfighter | 285 | $34.99 | May 1st |
| 75347 | TIE Bomber | 625 | $64.99 | January 1st |
| 75348 | Mandalorian Fang Fighter vs. TIE Interceptor | 957 | $99.99 | May 1st |
| 75349 | Captain Rex Helmet | 854 | $69.99 | March 1st |
| 75350 | Commander Cody Helmet | 766 | $69.99 | March 1st |
| 75351 | Princess Leia Boushh Helmet | 670 | $69.99 | March 1st |
| 75352 | Death Star Throne Room Diorama | 807 | $99.99 | May 1st |
| 75353 | Endor Speeder Bikes Diorama | 608 | $79.99 | May 1st |
| 75354 | Republic Gunship | 1083 | $139.99 | September 1st |
| 75355 | Luke Skywalkers X-Wing Starfighter | 1949 | $239.99 | May 1st |
| 75356 | Executor Super Star Destroyer | 630 | $69.99 | May 1st |
| 75357 | Ghost & Phantom II | 1394 | $159.99 | September 1st |
| 75358 | Tenoo Jedi Temple | 124 | $39.99 | June 1st |
| 75359 | Ahsoka's 322nd Clone Troopers Battle Pack | 108 | $24.99 | August 1st |
| 75360 | Yoda's Jedi Starfighter | 253 | $34.99 | August 1st |
| 75361 | Spider Tank | 526 | $49.99 | August 1st |
| 75362 | Ahsoka's T-6 Jedi Shuttle | 599 | $69.99 | September 1st |
| 75363 | The Mandalorian N-1 Starfighter Microfighter | 88 | $14.99 | August 1st |
| 75364 | New Republic E-Wing vs. Shin Hati's Starfighter | 1056 | $109.99 | September 1st |
| 75365 | Yavin IV Rebel Base | 1067 | $159.99 | August 1st |
| 75366 | Advent Calendar | 320 | $44.99 | September 1st |
| 75367 | UCS Venator Star Destroyer | 5374 | $649.99 | October 1st |
| 75368 | Darth Vader Mech | 139 | $14.99 | August 1st |
| 75369 | Boba Fett Mech | 155 | $14.99 | August 1st |
| 75370 | Stormtrooper Mech | 138 | $14.99 | August 1st |
| 75371 | Buildable Chewbacca | 2320 | $199.99 | September 1st |